Little Mountain Homeopathy Client Testimonials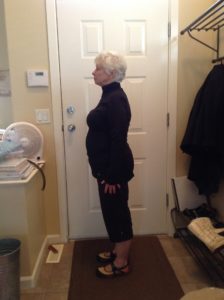 I have always been a healthy eater. The annoyingly healthy one. Pretty much always a size 10. But when I hit menopause at 53…Boom! I could barely squeeze into a size 14.
I like clothes. I did everything. I thought I was on to something with Paleo and Wheat Belly Diet. I lost 26 lbs. quickly and then stopped losing weight. Even though I continued a modified Paleo/Wheat Belly routine.
I moved to Vancouver to be with my grandchildren. I used to have energy.  My youngest grandchild is 5.  I was concerned that I could not keep up with them. I still needed to loose 15-20 pounds. I knew that something I was doing wasn't working.
Sonya knew right away that I would do well on the plan. I really liked that metabolic balance was an individual program. The first thing I noticed was that I was eating too many nuts. I like that I know I am getting the right amount of vegetables, fats, and protein.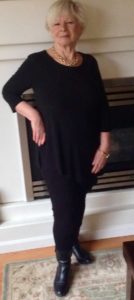 I started MB April 29, 2015 & by the end of July I , 2015 I had  dropped 25 lbs.   In mid August I went back east for a reunion & was there for 2 weeks.  Stayed pretty true to my program except for the wine & baked sweet potatoes   All was good until just about a month before Christmas.  That is when I gained the 10 lbs.  I attribute the gain to the potato chips & chestnut praline lattes.  What started as 1 latte every 2 weeks, soon became one a day  Jan. 29, 2016 is when i committed to the program again.
After starting Metabolic Balance, the way I look at things changed. I stopped procrastinating. I see something that needs to be done I just get up and do it. It feels good. It is not just how I look, my digestion is so much better.
I have more energy. My friends talk about getting older; they talk about their aches and pains. I don't. I don't have any pains. They move slower than I do. When we take walks I have to wait for them to catch up.
I love fish! That is my favorite food on my plan. I like the Mandelade breakfast, chicken, and goat yogurt. And all those vegetables and fruits… I prepare and get ready for the week. I sit down at the beginning of the week and make a menu. I change it up on Sunday.
Just do it! It is simple. Make your meals pretty. Buy good pickles.
Barbara Cole
Langley BC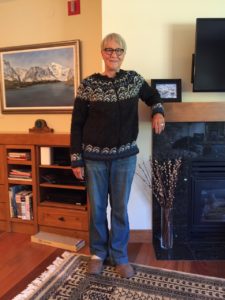 Sonya McLeod led me through a weight reduction and management using the Metabolic  Balance program out of Germany. With Sonya's guidance and coaching, I learned what a healthy weight and body measurements would be for my age, height, and activity level. The weight loss happens quickly with Metabolic Balance, and one learns the importance of portion sizes through measuring the weight of food, and the importance of having vegetables at each meal. I met with Sonya for a year to obtain the habit changes that helped me manage my weight. Sonya made sure that other factors in one's life (travel, for instance) work with the program. I would recommend this weight management method for anybody.
Tricia Daum
I have been looking for a diet program that I can rely on and works for life. When I was younger, it was a lot easier when my metabolism was still great and it seemed that any programs would work for me. That was how I could manage my 'stable' weight since I was in my twenties. When I turned 50, I felt that all of a sudden my metabolism was not on my side anymore. I struggled controlling my weight and to lose 1-2 kg that would bounce back after a few weeks. I had to suffer from headaches, loss of energy and felt weak. I did not even know if I had lost fat or just fluid or even worse, muscles.
A good friend told me about the Metabolic Balance (MB) program a few years ago and I decided to join this program as my 50th birthday present. I am glad to say that it was the best birthday present ever! I am so lucky to find Sonya McLeod (MB Coach) who lives on the other side of the world! Sonya walked me through the program thoroughly and she has been supportive throughout my program.
I started my program in March 2017 (phase 1 and 2). After week 4, I had to 'stop' my program as I traveled with my family to China (food haven). While I tried to stick with as many rules from the 8 golden rules, one can imagine it was pretty hard. Surprisingly, I came home gaining only 500g. This is how I can see that the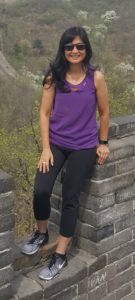 program has worked well. I am now on phase 4. I have reached my weight goal and this program is now part of my everyday diet lifestyle.
What I have learned from MB is it is not a diet program. I define this program as a personalized educational eating program to achieve a healthy and balanced metabolism in which weight loss is a bonus. It has taught me the principles of how to reset and control my metabolism, to carefully choose the food that suits my health condition while I can still enjoy eating. I have been eating some protein and vegetables that I had not tried before and it is fun! The 8 golden rules have become part of me. I am lighter, happy, healthier and more energetic in which I can increase my gym sessions to gain more muscles and lose more fat!
Thank you, Metabolic Balance (and Sonya!).
______________________________________________________________________
Metabolic Balance® is an innovative all-natural nutrition program that balances your hormones, optimizes your health, and leads to a new invigorating lifestyle resulting in successful long-term weight management. It is backed by over 25 years of scientific study and is managed by dedicated physicians and nutritional scientists.
The foundation of the program is its unique capability to develop a truly personalized nutrition plan
based upon an in-depth analysis of your unique blood values, medical history and personal likes and dislikes. Your personalized nutrition plan acts as your road map, indicating exactly which natural foods you should eat in order to orchestrate the biochemical changes needed for reaching your desirable weight and health goals.
Metabolic Balance® is 100% natural. There are no prescribed injections, pills, shakes, or packaged foods. Nor, as with some diets, are you required to count calories. Your local grocery store can easily provide all the wholesome nutrient-rich foods listed on your personalized nutrition plan.
You are accompanied through the four phases of your program by a Certified Metabolic Balance® Coach. Your personal coach guides you towards reaching your ideal weight, will advise you on how to avoid yo-yo dieting, and will help you to embrace your new healthy lifestyle. The program is safe, healthy, economical, and has all the elements needed for success. Metabolic Balance® has served over half a million participants so far and looks forward to serving you.
The Metabolic Balance® creed comes from ancient wisdom: "Let thy food be thy medicine and thy medicine be thy food" – Hippocrates (460-377 BC)
Why Metabolic Balance® Works
Your personalized all-natural nutrition plan balances your personal body chemistry with the right food chemistry.
The research, over 25 years' worth, looks at the root cause of how and why a person stores and releases energy and fat. Your body is capable of producing (on its own) the hormones and enzymes that are needed for it to function. However, the body requires adequate building material in the form of proteins, carbohydrates and nutrients that are obtained from wholesome foods. Your plan concentrates on the exact foods that possess the essential, vital nutrients your body needs most. Based on this in-depth scientific and innovative understanding, Metabolic Balance® develops your personalized nutrition plan in order to naturally balance your hormones, enzymes and your biochemistry. There is no artificial manipulation of your biochemistry by the use of injections, shakes, pills or specialized foods. Metabolic Balance® is the right way to "diet". In fact, it is not a diet at all – but rather a hormone balancing program that helps you to naturally lose weight and keep it off.
Why Metabolic Balance® is Successful
While there are several reasons, here are four reasons why it works so well:
1. Your program is 100% personalized and actively supports your unique biochemical and nutritional needs. Just as no two people are exactly alike, no two nutrition plans should be exactly alike. Don't settle for a one diet fits all approach. You are unique and a personalized nutrition program must reflect this fact and be designed just for you.
2. The prescribed foods on your nutrition plan are uniquely designed to affect positive healthy changes while naturally
diminishing your food cravings and hunger spells. Hence, you do not suffer from hunger as you do with other diets, and food cravings become a thing of the past. You re-establish your natural and healthy sense of hunger.
3. Success breeds success. You will start losing fat and weight rather quickly. The average weight loss experienced is 3 to 6 pounds per week. Achieving favorable results fuels and inspires your sense of well-being, energy, and commitment. New healthy habits are learned, while old harmful habits are left behind, and with time, forgotten. A new lifestyle emerges that feels great, and allows you to maintain your ideal weight with no yo-yo dieting.
4. You are not alone! You are accompanied by your personal Metabolic Balance® Coach. Your personal coach is there to support, teach, guide, encourage, and motivate you along the road to reaching your goal. Personal coaching is a substantial part of your success, and the coach is an integral part of every Metabolic Balance® program. With your coach's instruction you will begin to understand how different foods work to balance you metabolism, and which foods hinder your progress. This knowledge is invaluable for reaching and maintaining a healthy, slim and vital lifestyle for the rest of you life.
How Metabolic Balance® Helps You to Achieve Your Ideal Weight
When using your personalized nutrition plan, you supply your body with all the vital and healthy nutrients it needs. Food is not selected according to calorie content or by percentage of fat, protein or carbohydrates. The criteria for food selection is the effect a specific food has on your hormonal system.
Through this method, balanced insulin production is promoted. Insulin is the internal key to
your body's weight management system, and has a substantial effect on hormone and enzyme production. Your personalized nutrition plan allows your blood sugar and insulin to increase at a much slower rate (rather then surging), thereby allowing you to avoid hunger and food cravings for a longer period of time. Subsequently, more fat can be burned during the space between your three daily meals and especially while you sleep. By following your nutrition plan and a few simple rules, you will begin to strengthen and balance your entire hormonal system and to naturally manage your weight. Clients will generally lose from 3 to 6 pounds of fat per week. By participating in your own personalized Metabolic Balance® nutrition program, you are making a conscious choice to have increased health, vitality and quality of life – all at the same time.
Health Improvements Experienced by Following the Metabolic Balance® Program
In 2010, a year long scientific study was concluded on the Metabolic Balance® system and was recently published in the Journal of Nutrition and Metabolism (Volume 2010, Article ID 197656). The study revealed that "relevant blood parameters as well as HRQOL improved significantly". In other words, the participants' blood chemistry values and their Health Related Quality of Life (HRQOL) showed significant improvement.
After a healthy adjustment towards a balanced all-natural diet, coupled with
appropriate exercise, most disease and illness in modern civilization could be largely reduced or possibly even eliminated. Metabolic Balance® proves this truth time and time again. Thousands of participants have reported  that their physician has reduced their prescribed medicines, or has eliminated them altogether. By restoring yourself to a balanced all-natural diet, a natural restoration of your body occurs. Restoring nutritional balance recreates your body's natural equilibrium. Simultaneously, you promote a healthier, energetic self that has regained control and is able to manage the negative effects of the stresses and strains of modern-day life. You will find that you sleep better, your physical and psychological well-being improves, and your immune system is much stronger. You will feel healthier, happier, look younger – not just to yourself but also to others.
The bad news is that natural food has become a rarity on our dinner plates. When you realize the health issues we face with our contemporary artificially enhanced and packaged foods diets, you start to understand why almost 60% of Canadians are overweight and metabolic diseases are on the rise. We are being super-sized to death with processed food! More often then not, consuming these "designer" convenient foods are the cause of today's malnutrition and goes hand in hand with modern lifestyle illnesses such as obesity, diabetes type II, hypertension, imbalanced and high cholesterol, inflammation, fatigue, skin disorders, insomnia –  just to name a few.
Who Should Participate in Metabolic Balance®
You should participate:
If your weight situation calls for a permanent solution and you want to lose weight in a safe and healthy manner. Whether you need to lose 300 lbs or only 10 lbs metabolic balance® will be your best long term solution.
If you suffer from health problems due to excess weight resulting in illnesses such as: Type 2 Diabetes; Rheumatism; Migraines; Insulin Resistance; High Blood Pressure; Fatigue; High Cholesterol; Imbalanced Cholesterol; Osteoporosis; Allergies; Skin Disorders, etc.
Being underweight is also a risk factor for health issues. People who want to gain weight will have success with this program as well, because it balances the metabolism.
If you want to experience renewed energy, vitality and be slim, fit and healthy, regardless of your age. Maintaining a
healthy, balanced lifestyle is key to preventing disease and strengthening your immune system.
If you have tried "diets" with limited success. Now it is time to get your hormones in balance and achieve the long-term results that have eluded you with other programs. The Metabolic Balance® nutrition plan is designed for your unique biochemistry and health data. Don't settle for a one diet fits all approach. You are unique and your nutrition program should reflect this fact and be designed just for you.
Order the E-Book
Program Cost
The fundamental principal of Metabolic Balance® is the personal evaluation of your blood chemistry. 35 lab values will be used to create your personal nutritional plan, optimized to re-balance your body's metabolism.
Metabolic Balance® is a balanced program, which means it neither is a high protein nor a low carb diet.
The program is divided into four phases:
Preparation Phase (2 days):  Your body is gently prepared for the nutritional adjustment.
Strict Conversion Phase (minimum of 14 days): – Only foods listed on your personal food plan are allowed. Your metabolism is being trained and adjusts to the new nutritional lifestyle.
Relaxed Conversion Phase (The duration depends on your personal circumstances and your weight): While still observing the 8 basic rules, more freedom can be enjoyed while you closely monitor your progress. New foods will be incorporated into your daily menu plan.
Maintenance Phase (Lifetime): The maintenance phase will assist you in maintaining your new ideal and healthy weight. By this time, you will have established a new balanced lifestyle and a newfound appreciation for healthy and beneficial foods.
The menu consists of three meals a day, each meal allowing you to choose your proteins, vegetables and fruits. You will be provided with a list of the foods that are best suited to you, and instructions about the timing of your meals and how much to eat.
All foods can be purchased at a regular grocery store. The Metabolic Balance®   program does not include any pills, powders or supplements.
You are not required to exercise during the program until you reach your goal. Most fat will be metabolized during your sleep so you will actually sleep the weight off.
Pricing
The program includes everything you need to achieve your weight goal. Included is the initial evaluation, your lab work needed to complete your meal plan, as well as instructions on all the phases of your diet.
The cost includes 8 private 60-90 minute sessions with your coach, 5 short 15 minute weigh-in consultations by phone with your coach, and 3 online 90 minute webinars . At no additional charge, your coach provides up to 3 months of e-mail and/or phone support, as needed.
Total Cost: $924.00
Cash, Cheque, Paypal, Email Money Transfer, Visa, or MasterCard are accepted
Ask about our group discounts, monthly specials and payment plans

Paula's Story
Coach: Melissa Pancini
I've had my shares of struggles with losing weight and keeping it off. I used to be very slim in High School but life happens and a combination of stress, lack of exercise and emotional eating got to me. All of a sudden I was wearing clothes sizes in the double digits. I knew that my overall quality of life was poor. I had no energy. I was always tired. I was not sleeping well. My clothes were getting bigger and bigger. I had spent thousands of dollars in diet programs with no success. I would tell myself that I was ready to try another plan again, but would quickly give in to temptation.
I was very happy for my friend and coach Melissa Pancini when she told me she was going to get certified as a coach with metabolic balance. She was transmitting so much enthusiasm that it was hard not to join her in the feeling.
Everything she was explaining to me made a lot of sense. The idea of eating the foods that were most optimum for my metabolism intrigued me. I did my research and decided that I had two choices: stay the way I was with the occasional success or get a new result by doing something I had not done before. I opted for the latter.
I've been with the program for 16 days now, and I've seen changes that I have not seen in a very long time. Not just in my body but in my mind set as well. I discovered how committed and disciplined I am towards reaching my goals, which no longer are to simply lose weight but rather to measure my success in the quality of my sleep, in my disposition during the day and a healthy glow in my face without any makeup.
I am eating so well in the program I cannot say I am on a diet!!! I feel satisfied with my portions and look forward to making meals for myself making sure I am being creative and not repeating the same foods all the time.
I discovered how well my body adjusted to eating the right portion and that I could trust my body signals again. Like clock work, after 5 hours I would eat because I was hungry! I had forgotten to listen to that signal. I'd gotten used to eating out of stress or emotional overload.
After 16 days, I can say that I am definitely sleeping better and my energy has increased. My before and after picture give me strength to continue being committed and disciplined. I enjoy drinking the water and weighting my food. I feel this gives me control of the situation and it is empowering. I look forward to the next 16 days, and the next and the next.
I am ready for the "me" I've been waiting for and I am in charge.
Metabolic balance is awesome.
Bonnie's Story
My health markers were creeping upwards and I didn't have the energy that I wanted.  I was approaching a milestone birthday, 60, and I was determined to start this decade looking and feeling a whole lot better.
I had tried other programs before, Weight Watchers, shakes etc. and had lost some weight – slowly and with a lot of work.  This was different.  The metabolic balance plan was so easy to follow.  Shopping and meal preparation were a breeze- simple and fast. I have never not cheated on a plan before, that little voice whispering in my ear, "try it, one 'fill in the blank' won't matter".  But it did because one led to another and another.  Not this time.  No cravings and no cheating.
I lost 25 pounds in the first 8 weeks of my metabolic balance plan and I am now down 50!  I have gone from a size 20 to size 14.  My blood markers have improved substantially: cholesterol (down 13%) from 6.62 to 5.73; triglycerides (cut in half) from 2.52 to 1.27; urea (kidney) (cut in half) from 8.2 to 4.1 and alanine transaminase (liver) (cut in half) from 73 to 34!!!
I look and feel great!  Every one who sees me cannot believe the difference. I enjoy clothes shopping now.  I am wearing regular sizes – no more plus sizes!  When I see my reflection, I see a "normal" person not a "fat" person.  I used to be incredibly self-conscious and agonized over what to wear when I went out because I always felt fat.  Now, I love getting ready and love going out.  I love being me!
Adam's Story
Coach: Noreen Kassam
At this time he was drinking 2 liters of pop every single day, and eating a diet rich in carbohydrates and sugars.
His trainer, Noreen Kassam, spotted him on a treadmill at the gym one day, and decided at that moment she was going to change his life – but she didn't know how. After approaching him, she found out that Adam was unemployed and living on a disability pay check. To her surprise, his roommate and dear friend had come forward with a cheque to pay for 100 sessions of personal training. His friend had just been given her grandmothers' inheritance money and wanted to make a difference in Adam's life.
Noreen is certified through metabolic balance®.
After taking the metabolic balance® course, she implemented the 8 rules into his diet, and continued to train him three times per week – which has lead to incredible results.
Adam went from being 471lbs (49% body fat) in August 2011, to 274lbs (30% body fat) in February 2013. His success has been so inspirational, and he continues to send food logs through email to his trainer each day.
In March 2013, he finally got his blood work done, and his values were nothing short of impressive. He obtained his first official metabolic balance® plan, and in 2 weeks has already dropped another 21lbs!
We will continue to watch Adam get to his goal weight of 200lbs, and watch his fitness develop as he is now able to do push ups, sprints, farmers walks, bear crawls, dead lifts and squats at ease! He feels great, shows off his results to everyone who will listen, and has a large facebook and twitter following of people – including weight loss celebrities such as Chris Powell.
Rick's Story: A Letter from his Wife
Disclaimer:
The Metabolic Balance® program does not replace your usual consultations with your medical practitioner. Especially in relation to any symptoms or illnesses requiring medical supervision.
Reference: Metabolic Balance® Canada Main Website
(Visited 625 times, 139 visits today)