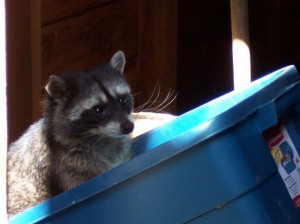 Remedy Nucleus (Raccoon Characteristic Symptoms)
1. Ringworm Miasm (Periods of effort alternating with inactivity)
2. Sensory Sensitivity: Vision, Smell, Touch, Hearing, Taste
3. Criminals, Crimes, and Police
4. Flow & Lack of Flow: Water & Dryness
5. Pressure/Constriction/Stopped/Plugged/Lump Sensation
Read the Full Proving Text:
Homeopathic Proving of Procyon Lotor – Raccoon Fur
 Summary of the Homeopathic Proving of Raccoon 
Affinities
Nervous system
One side (either right or left)
Hair
Sensory organs (eyes, vision, ears, hearing, nose, smell, mouth, tongue, taste, touch)
Digestive tract (throat, stomach, abdomen, rectum)
Urinary tract
Female reproductive system
Respiratory system
Back & Neck (pains)
Small joints
Skin
Modalities
Worse
 Late afternoon (esp. 5pm), evening, & night.
2 pm (headaches)
On waking
Becoming cold or overheating
Bright light
Loud noises
Pressure
Swallowing (throat pain)
Drinking liquids
Eating
Menses
Better
 After sleeping
Drinking liquids
Eating
Rubbing
Miasm
There is both sycosis and psora in this remedy, which puts the remedy in the ringworm miasm. With the ringworm miasm there are periods of effort alternating with inactivity. Many of the provers had this type of experience in regards to their energy: there were days where they were very active and restless, alternating with times when they had no energy to do much of anything. Lac Humanum is also in the ringworm miasm.
Interestingly enough, one of the provers said that she got a rash that looked like ringworm, even though she knew that it wasn't ringworm.
Themes
Animal Themes: Survival
A few of the provers felt dirty or ugly, with a lack of confidence in themselves. Competition with other people came up in the dreams. There was also a lot about survival. People needing this remedy will fight for their survival, and are not afraid to establish and maintain their personal boundaries. There was a lot in the dreams about victimization and subordination, abuse, being attacked, and then fighting back or protecting oneself or others.
Mammal Themes: Family/Nurturing/Female Complaints/Protecting Children
Many provers, as well as supervisors/master prover, had an increased need to take care of and nurture their children. Many also had dreams of family members. This theme of nurturing and family also came out in the dreams of many of the provers. This is a theme common to all mammal remedies, including raccoons who can stay with their young for up to a year.
Many of the provers also experienced menstrual symptoms. It caused painful menses for a few different provers. For a couple of provers, they had some cramping either before or after their period. The pain was either cramping, or there was a bearing down sensation. Two of the provers had their periods come as early as 9 days early. One supervisor had intermittent bleeding that came and went. For two provers it either caused or cured heavy period flow. For some the periods tended to last longer than normal.
We also found it interesting that two of the provers had itching and dryness of the nipples. This symptom fits in with the theme of nurturing.
Fear of snakes is also common to all mammal remedies. This symptom showed up in a few separate dreams of one of the provers.
General Themes of Procyon Lotor
Increased Creativity and Activity of the Mind/Dullness, Confusion and Foggy Mind
Many of the provers experienced more ideas and flow of thoughts after taking the remedy. Sometimes this rush of thoughts increased at night, preventing sleep. Other provers found it very difficult to think and to concentrate, like their minds had become foggy, becoming absentminded and confused.
Physical Restlessness and Activity/Weariness with Aversion to Work    
Some provers experienced an increase in energy even when they did not get a full night's sleep. They became physically restless and active. A couple provers also experienced an increase of physical restlessness at night in bed, with lots of tossing and turning. Other provers experienced lassitude with indolence and an aversion to work, and overpowering sleepiness with a desire to lie down and nap. Sleeping or napping often restored the prover's energy.
Anger, Irritability, Quarrelsomeness and Intolerance
This aspect of the remedy also came out in the dreams. Provers who were normally intolerant and short tempered became more tolerant and sympathetic towards others, accompanied by feelings of happiness and cheerfulness. It also caused or ameliorated a quarrelsome disposition. Fights and quarrels were also prominent in the dreams.
Anxiety
This came out in the dreams as well. For some provers, their normal anxiety was ameliorated during the proving. One supervisor experienced a pronounced anxiety on waking at 5am.
Sensory Sensitivity Increased or Diminished: Vision, Smell, Touch, Hearing, Taste
Some provers became sensitive to colour and to bright light. One prover had the desire to wear black, as she found bright colours too stimulating. We can guess this symptom may be related to the raccoon's increased sensitivity to light since their eyes are suited to night vision.
One prover became very aware of and uncomfortable in her own skin. Sense of smell was increased. Another prover became very sensitive to noise, but one master prover had blocked ears and had trouble hearing. One prover had a diminished sense of taste, where food didn't taste as good as it usually did.
Difficult Communication
This was a symptom which was experienced by provers, supervisors and the master provers during the proving. Provers and their supervisors often had difficulty getting hold of each other during the proving. At the extraction meeting, the master prover's internet stopped working, making it impossible for the group in Edmonton to communicate with the group in Vancouver via Skype. Some provers also had the feeling of being separate from other people, talking to them at a distance or feeling like others were speaking a different language. One related physical symptom is that one of the provers' voice became very weak and she lost her voice, making communication with others difficult. Another prover's voice became much louder than usual and she had trouble keeping opinions to herself, which was probably an ameliorated symptom since she normally keeps more to herself.
Criminals, Crimes, and Police
There were lots of dreams about committing crimes, stealing, criminals, and police. One of the provers had her proving journal stolen during the proving. The raccoon's reputation as a sneaky bandit and thief comes through very strongly in this proving.
Food, Increased Appetite, Nausea and Digestive Issues
Lots of dreams about food and eating. Many of the provers had increased appetite, perhaps mimicking the raccoon's voracious appetite in the fall, in preparation for sleeping away the winter. Provers had all sorts of different food cravings. One prover had a capricious appetite, wanting various foods but not being satisfied after she ate them.
Nausea seems to be a big part of this remedy, since most if not all of the participants experienced this symptom. A lot of the provers experienced nausea when hungry, ameliorated by eating. Others just experienced a generalized nausea, not really aggravated or ameliorated by anything. The nausea was also sometimes accompanied by vertigo.
Emotions were felt in the stomach of one prover. Some provers had gurgling in the abdomen, with increased or offensive flatus. This remedy produced an increased urgency for stool. For one prover it caused constipation with urging. It ameliorated one prover's hemorrhoids.
Flow & Lack of Flow: Water & Dryness
Almost every prover experienced this theme, as well as a master prover. A few days before the extraction meeting, the master prover's parking lot was flooded. Flooding, rivers, streams, oceans, etc. were in the dreams of many of the provers, and master prover. Raccoons prefer to live near water, as it is one of their main food sources in nature.
Many of the provers became very thirsty. The throat, mouth, and lips became dry. Skin eruptions were mainly dry. Hair became dry as well. The master prover had a sensation of water in the ear. On the other hand, there was increased mucus production. Some provers had mucus in the back of the throat, and had the desire to clear the throat. There was sneezing and coryza. Two provers had dry, non-productive coughs. One prover had no urge to urinate during the day, but the frequency of urination increased at night. Another prover felt that the remedy had really aggravated a UTI that had started to come on before the proving. One prover had dry eyes, and two provers had lachrymation.
The menstrual flow was also disrupted. Please see "mammal themes" for more details. One prover had vaginal dryness, while another had some vaginal discharge.
Stopped/lump/plug sensations came up a few times in the physicals. It is interesting when viewing this symptom in terms of water and dryness, how things are stopped up and not flowing properly. These sensations were experienced in the throat, ears, and stomach.
Dream Themes
Dreams of Animals: Large Felines, Birds, Slugs and Dogs
Bobcats and cougars are natural predators of the raccoon. Provers and one master prover dreamt of a cougar, panther, and a tiger. One prover had a dream of a dog. Hunters use dogs to hunt raccoons. There were also dreams about different types of birds such as ducks and hummingbirds, and a dream about invertebrates and slugs. Raccoons eat birds and slugs.
Dreams of Forests, Trees, and Climbing Trees
The natural home of a raccoon is in the forest. They make their dens in trees. They are also excellent climbers. In the proving, many of the provers had dreams of trees, and of climbing those trees. There were also dreams of the tropics (i.e. palm trees and rainforest), which makes sense if one considers that raccoons not only live in North America but also in Central America, which is tropical.
Dreams of Magic & Fairytales
This theme came out in the dreams. Historically the raccoon has been a part of many old First Nations legends. One of the provers also had a dream about aboriginal people.
Dreams of Houses
A common theme in the dreams of especially one prover in particular. Adult raccoons don't usually live in just one den, they may have several that they frequent. The "house" or den of the raccoon is especially important to a mother and her babies.
More Physical Themes
Headaches(?)
We are not sure whether this is a theme of this proving, since the provers who got headaches usually had headaches normally, though the headaches they got during the proving were different from their usual headaches. One thing that we can be sure of is that this remedy has an affinity for pains in general, especially stitching pains.
Stitching Pains, Come & Go Suddenly with Special Affinity for the Small Joints
Pains were predominantly sharp, or stitching in nature. Stitching pains were experienced in the head, eyes, face, neck, stomach, abdomen, chest, and had a special affinity for the small joints. Pains also had a tendency to come and go suddenly, not staying around for very long.
Pressure/Pressing Pains/Heaviness/Bearing Down
These sensations were experienced in the head, eyes, face, stomach, abdomen, uterus, chest, back
Constriction/Tension/Pinching or Opposite: Swelling/Inflammation/Distension
Constriction/Tension/Pinching in the eyes, neck, back, chest and knees. Swelling/ Inflammation/Distension in the face, ears, mouth, abdomen, and throat.
Trembling/Twitching/Fluttering
Fluttering in the chest. Trembling or twitching of the extremities.
Heat/Chilliness/Flushes of Heat
Some provers became very chilly and found it hard to get warm even after covering themselves with a blanket. Provers experienced a sensation of heat on the face. One prover's hot flashes increased. Another prover had a flush of heat during her headache. Some provers felt hotter than usual, even on a chilly day one prover took off her jacket.
Most provers tended to be chilly during the proving, sometimes alternating with flushes of heat.
More Physicals
Skin eruptions tend to be dry or pustular, with or without itching.
Symptoms, especially the pains, tend to come and go suddenly
Early waking, sometimes feeling refreshed after only a short sleep
Some Particulars/SRP's
Waking at 5am
Weeping in the morning on waking
Sensation as if inhaling cold air through one nostril
Dark circles below the eyes
Urine smelling as if one had eaten asparagus
Itching of the right mammae
(Visited 26 times, 8 visits today)