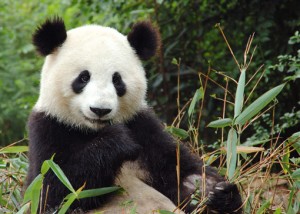 No Longer the Victim: Letting Go of Grief and (Re)Connecting with Heart-Centered, Peaceful Playfulness 
1. Grief about Mistreatment, Tears Well Up,  Crying Difficult/Ameliorates, Lump in Throat
2. Acid Reflux with Burping, Bloating, Stomach & Abdominal Pain
3. Solitary, Slow-Paced, Playful, Lazy and Hyposensitive
5. Plugged Ears; Hoarse Voice (Affinity with Throat Chakra)
6. Desire Freedom; Captivity agg., Need Space & Sunlight
Read the Full Proving Text: Giant Panda (Ailuropoda melanoleuca) Trituration Proving
Summary of the Homeopathic Proving of Giant Panda
Physical Affinities

Esophagus
Intestines
Face (left side)
Head (left side)
Eyes
Ears
Nose
Mouth
Chakra Affinities
Heart
Throat
Sacral
Brow
Modalities
Desires
Fresh air, outdoors
Food
Alcohol
Sunlight
Water
Nature, mountains, etc
Aversion
Meat
Worse
Overheating
Enclosed spaces
Menses
Injustice & inequality
Better
Drinking water
Crying
Walking
Miasm
Cancer
Giant Panda: Major Themes
Mammal Themes
Some very strong animal and mammal themes were apparent in this proving such as the issue of survival (the panda bear is in danger of becoming extinct due to lack of habitat). Unlike many mammals, pandas are solitary creatures and this remedy had a solitary aspect to it with a desire to be left in peace. Provers felt some aggression at times: "Back off, this is my territory!" The anger toward humans in particular was apparent, since it is habitat destruction that is threatening pandas. Panda feels strongly that s/he has been abused and mistreated by humans, and s/he is angry about it.  Panda has been put in chains, ridiculed, laughed at and hunted by humans, and s/he has had enough: "Enough, this is enough!" They feel victimized, and they are angry about it. Other mammal themes that came out during the proving were sexual thoughts, aggravation during menses and dreams/thoughts of babies. There were also dreams of being covered in shit, having to clean up shit and feeling dirty and unclean.
Heart Pain, Grief & Creativity
This remedy has an affinity for the heart chakra. Panda holds a lot of grief about how s/he has been mistreated. Panda warns humans to change their ways before it is too late. Tears welled up inside but it was difficult to cry. If provers could cry it provided some amelioration. Often the feeling of grief and sadness was accompanied by a sensation of a lump in the throat. One prover experienced heart pain (angina) in the sternum. This remedy can help open the closed heart of the typical "white male energy." This remedy can also help women and minorities to see the value in what they create, and to be more confident in their work instead of relying upon somebody who holds the dominant viewpoint for direction and encouragement.
Digestion & Appetite
Digestive complaints are a major keynote of this remedy. There was acid reflux with the sensation of a lump and/or trapped air in the esophagus, sometimes accompanied by nausea. There was also frequent burping. In the abdomen there was bloating and sharp abdominal pain sometimes accompanied by flatulence. The pain during menses was also sharp, accompanied by bloating. Digestive symptoms seemed tied to the feeling of victimization and persecution. There was also increased hunger, but an aversion to meat. There was a desire for alcohol. Also, an increased tolerance for alcohol and pharmaceutical drugs. Bowel movements became more frequent, up to 5 times per day.
Playful & Lazy
Provers experienced a desire to slow down, relax, lie around and do nothing. Some provers were late for work or appointments but didn't really care. Provers would often giggle at the thought of how serious this trituration seemed. There was also an aversion to rushing and perfectionism: "Why are you all caught up in doing things so perfectly? Life is not to be rushed." There was also frequent yawning. Provers couldn't entertain the thought of triturating beyond C4, it seemed like too much work.
Clumsiness & Forgetfulness
This was also a big theme of the remedy. Provers knocked into thing, cut themselves, and burnt themselves accidentally. Panda is awkward and accident-prone. Along with this was fuzzy headedness and increased absentmindedness.
Face & Head Symptoms
This remedy has an affinity especially for the left side of the face and head. Provers experienced sharp shooting pain in the ears, cheeks, teeths, jaw, eyes and head. The pain resembled nerve pain. The left half of one prover's face became numb. One prover also experienced a sensation of swelling in the eyes and the lower half of the face. One prover's eyesight became more sensitive and she had an aversion to bright colours. Sensitivity to light/colour seems to be a common symptom of nocturnal mammals (see homeopathic raccoon proving).
Ears, Nose and Throat
There was congestion and mucus in the ears, nose and throat. All provers experienced decreased hearing, like their ears were filled with cotton. Congestion was more pronounced in the left nostril and there was also bleeding and mucus plugs in the left nostril. Mucus collected in the back of the throat. There was also an increased sensitivity to smells.
Mouth Symptoms
Mouth ulcers developed on the left side of the mouth. There was sharp shooting pain in the jaw, worse while chewing.
Silence, Hearing & Difficult Communication
Provers felt like their ears were blocked with cotton and found it difficult to hear what people were saying. Pandas wanted to give humans a message, but they had a feeling that they would not be heard. One prover's voice became hoarse from trying to get her message across (panda has an affinity for the throat chakra) and still nobody would listen. There was also the feeling during the trituration that "Silence is OK, silence is not uncomfortable."
Solitary Creatures: The Need for Space and Freedom
Pandas are solitary creatures. During the proving there was a desire to have one's own space, to be alone. There was also a feeling of wanting to be free, tied to a feeling of persecution; pandas don't like captivity.
Remedy Typology
This remedy has tremendous healing potential, especially for people living in or originating from the Panda's native country, China. A person who needs this remedy has a hard time dealing with the injustices in the world. Most likely, this person would be a minority or hold a minority viewpoint, such as a woman, racial minority, homosexual or political activist. They recognize and acknowledge inequality and oppression and they are angry about it and want to fight against it. They recognize that we live in a yang world, full of violence and oppression, and their job is to integrate the yin (oppressed minorities) back into the world so that it can have full expression. People needing this remedy have a fighting spirit, but when they start to feel powerless; this results in digestive symptoms (bloating, acid reflux, etc.) Panda gives this person the courage to be who she really is without the need for approval of the dominant viewpoint, and the sensitivity to the dominant group's judgement. Panda is the catalyst to help people be the change they want to see in the world. Once this person is able to access their power and regain their true voice, only then can the world once again be brought into perfect yin/yang balance.
Remedy Nucleus
Fighting for equality; demanding justice
Typical mammal indications (feeling victimized, dirty, hormonal complaints, babies, etc).
Hoarse voice/Doesn't feel heard/hard of hearing
Gas, burping, bloating, flatulence & acid reflux
Lazy, playful, clumsy & forgetful
Left sided head & face pains, ENT congestion
(Visited 43 times, 22 visits today)