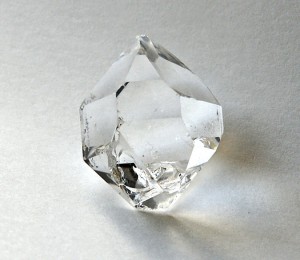 Seeing Through the Veil of Illusions: Shattered Lies and Sparkling Truths
Seeing the Truth (Eye/Vision Issues): Lies Become Transparent
Heart/Chest Pain: Opening Our Hearts & Accessing our Intuition/Power
Breaking/Strengthening Relationships
Joint Injuries & Pain
Dryness in Throat & Breathing, Easy Caries & Mouth Ulcers
Nausea & Vertigo; Emotional/Mental & Energy Imbalance
Read the Full Text: Homeopathic Trituration Proving of Herkimer Diamond
Summary of the Herkimer Diamond Proving
Physical Affinities

EYES
TEETH
HEART
Joints
Head
Mouth
Throat, Dry; Ears, Nose (Congestion)
Back/Spine
Fingers & Toes (esp. Nails/Cuticles)
Skin
Modalities

Worse
Chill
One Side
Night
Lies
Guilt (Anxiety of Conscience)
Better

Fanning/Open Air
Desires

Fruitful Activity
Self-Care (Doctor, Dentist, Haircut, etc.)
Nice Self-Presentation (clothing, nails, makeup, perfume, etc)
Sparkles (clothing, champagne, trinkets, gold)
Sex
Meaningful/Authentic Relationships
Drugs
Travel & Other Pleasurable Pursuits
Water, to Drink (Thirst Increased)
Cleansing/Purging
The Colour White and/or Purple
Truth
Learning/Reading
To be in Nature
Music (esp. Rihanna)
Perfection
Aversion

Lies
Food
Miasm

Sycotic
Main Physical Symptoms & Themes

Vertigo & Nausea
Mouth Ulcers
Teeth – Caries, Crumbling Easily
Bloodshot, Dry/Watery, Burning, Itchy Eyes
Unfocussed/Blurry Vision/Seeing Double
Dryness and Pain in Throat, Choking
Difficulty Breathing, Chest/Lung Congestion & Constriction
ENT Congestion with Sneezing
Heart Pain & Palpitations
Perspiration Increased
Appetite Decreased
Diarrhea or Constipation with Abdominal Pain & Flatulence
Insomnia
Energy Increased/Decreased (Could be useful for Chronic Fatigue/Fibromyalgia)
Skin (Itching Eruptions, Warts)
Leucorrhea/Yeast Infections
Pain Themes
Joint Pain/Arthritis/Joint Injuries
Shooting/Nerve Pain and Numbness
Back/Spine Pain/Injuries
Headache
Abdominal Pain
Throat Pain
Chest/Heart Pain
Ear Pain
Eye Pain
General Themes

ESP & Intuition: Telepathic Connections. We Are All One.

Sharpens intuition. Prophetic dreams. Telepathy. We are all born with intuition, and are linked to others
telepathically. We just need to flex our telepathic muscles; we need to really start trusting our innate
telepathic abilities and our intuition more. Provers experienced a telepathic connection with others in
their thoughts and dreams, and an ability to predict the future (sometimes with a feeling of déjà vu).
Provers' telepathic powers were so intense that they were often able to pick up on others' thoughts and
energetic frequency. We need to remember that we are all connected and we are all one. Once we learn
to trust our intuition more, our life path/purpose becomes a lot clearer.
Angels & the Supernatural

Connected to the ESP theme was the ability to see or sense supernatural beings such as ghosts, zombies,
vampires and other entities. Angels were a huge theme during the proving.
Lies Become Transparent: Seeking Truth

Provers were able to see through lies very easily. If somebody or something was false, they were able to
discern that. Once the falsehood was discovered, there was no skirting around the issue, provers were
able to see the situation for what it actually was and necessary actions were taken. Also, if something or
someone was not in alignment with the provers' true path in life, it was time to let go of what or who
was holding them back. Provers above all else strove to be genuine and true to themselves, and it was
easier for them to sense what their truth was during the proving. In many cases it was also necessary to
put aside one's ego in order to comprehend the truth about oneself. If provers had previously been lying
to themselves, the lie was shattered and they were able to see through the façade, and face their truth.
Authentic Relationships: Strengthened or Broken Connections

Provers had a desire to seek authentic relationships, and in some cases old friends came back into their
lives, or new relationships were formed. These relationships involved friends, romantic interests, or
family members. At times there was also a feeling of being alone and separate, of being out of the loop, 7
with the desire to connect with others. This remedy has the ability to heal relationships, or to break
apart relationships. If the relationship was not healthy (e.g. a marriage that was not in balance),
separation happened, with some feelings of guilt, though there was really no choice. Some provers had
dreams of adultery and/or marriages breaking up. One prover experienced the feeling of extreme
heartbreak, so intense that she thought she would die from her broken heart.
Balance/Off-Balance Emotionally and Physically: Light & Dark, Integrating Wholeness Yet Imperfect

Physical imbalance (vertigo) as well as emotional imbalance. Extreme emotional & physical highs and
lows. Lots of energy or none at all. Depression/suicidal/heartbreak or bliss. This remedy can help
somebody find emotional as well as physical balance. Puts your feet on the earth with head in the
clouds. Spiritual yet grounded at the same time. Reminds us not to be too negative, but not too positive
(naïve) either. Recognizing that in life there is darkness as well as light, and that's OK because life is not
about being perfect and it's OK to have flaws. Being in nature may help the patient become more
balanced. Recognizing that being whole means having a balance of good/bad, dark/light within oneself.
Embracing one's shadow side, but embracing the light (e.g. one's "angels") as well. Embracing instead of
denying one's femininity as well as one's masculinity and recognizing that both sides should be in
balance instead of resisting one side or the other (this remedy can heal our overly masculine world, to
bring femininity in balance with masculinity).
High/Low Energy Imbalance: Helps With Life Transitions

Energy could be too high, almost hyperactive, or very low. Provers who experienced the "highs" were
able to be extremely productive, to get things done that they had not managed to progress with
previously. This remedy can correct this imbalance of energy, depending on what is needed – it can calm
somebody who is too active, or can motivate someone who is not active enough. This remedy can be
useful to support and motivate somebody who has to go through a transition or change in their life.
Conscious Creation of Reality: Opening our Heart, Letting go of Fear & Claiming our Power

Herkimer can help with the process of ascension, which starts with the opening of the heart chakra.
With the heart, we can feel or intuit answers and information, which comes from our connection to
Source. Ascension is the process of anchoring our higher/intuitive selves into our physical bodies (head
in the clouds, feet on the ground). First we must let go of fear, which has been used to manipulate us, to
keep us controlled and weak (used by the elite/corporate powers). Once we recognize the power we
have, and have had all along, we come to realize that we have always been creating our reality and can
now consciously start to make real changes.
Letting Go of the Illusion of Ego: The Higher/Intuitive Self Chooses our Fate

There were reoccurring dreams during the proving of losing children and animals – e.g. of animals
escaping right through the bars and children disappearing. There was a feeling of losing control of the
situation, feeling like we didn't even have choice over doing the proving, it chose us instead of us
choosing it, or so it seemed. Something this proving helped provers come to terms with is that the ego
has little control or choice over what happens in our lives. It is actually our higher (unconscious/intuitive) self that chooses our destiny, without our conscious self (the ego) being aware of that choice. Our higher/intuitive self is always the best decision maker, and the only decision maker.
Purging & Self-Care

Provers had a strong desire to purge what was no longer useful ("toxic" relationships, environmental
toxins, clutter around the house, etc). Provers felt motivated to really take care of themselves, to get
moving on important health issues and to groom themselves well. Provers felt motivated to go to the
dentist, doctor, hair dresser, get their nails done, etc. This remedy also aids in detoxing radiation and
geopathic stress (electromagnetic toxins in the body).
"Time"

Distortions in time. Does time even exist at all, or is it just a construction of the ego? Time acceleration,
time speeding up, and sometimes a feeling like time was slowing down and was taking forever (e.g. the
proving took almost a year to complete!). Interdimensionality. Déjà vu – has this happened before, or is
it a blip in the matrix?
The Number 7
The number 7 showed up everywhere in the proving – in dreams, while making the remedy, in provers'
life, etc. This proving is Sonya's 7th trituration proving to be published online, there are 7 provers, the
trituration went to C7, etc.
Delicate & Feminine

This remedy has a very delicate, feminine energy. Therefore it has a greater affinity towards females, or
males who are more in touch with their feminine side. There was a feminine desire for glittery objects,
makeup, champagne, getting nails done, Rihanna music and perfume.
Sparkle & Glitter

Provers were especially attracted to anything with sparkle, including sparkly makeup, gold, trinkets,
jewellery, clothing, sunlight and champagne.
Animals

Many animals showed up in the dreams, and in the life of the provers. Especially abundant were BIRDS,
pets (e.g new hamster), cats, snakes and insects.
Money: Not Having Enough/Starving

This was a theme that ran through the remedy, the fear of not having enough money, of having to
provide materially for oneself and/or one's family. One prover started a new job so she could support
her children in a more sustainable way. Provers dreamed about having their material possessions stolen.
Drugs & Alcohol

Drugs and drug dealing showed up in dreams. One of the provers started smoking marijuana, something
she had never done previous to starting the proving. Dreams of alcoholic intoxication. Provers had
cravings for sparkling wine/champagne.
Dryness

Throat and airways became very dry, with a choking feeling, like breathing in dust, with a desire to drink
water. Eyes also became very dry. Dreams of the desert and the opposite, ocean.
Death/Suicide/Injury/Harm/Wars

There were many injuries throughout the proving, so this remedy could come to mind with somebody
who is accident prone. Dreams of guns and needles, and dreams of people or animals being harmed by
something or somebody. Death, suicide, funerals, tombs, killing and wars were themes during the
trituration and afterwards.
Secrecy/Very Personal/Sycotic Miasm
Typical of remedies in the sycotic miasm, provers had a great desire to hide their identity as well as
some of the more personal details of the proving – and this feeling was much more pronounced than in
other past provings.
Other Dreams & Imagery

Dreams of (Crystal) Caves
Shattered/Broken Glass
Ocean, Tidal Wave
Mountains
High-Pitched Ringing Bells
Tesla/Alternative Energy Sources
Remedy Nucleus

1. Seeing the Truth (Eye/Vision Issues): Lies Become Transparent
2. Heart/Chest Pain: Opening Our Hearts & Accessing our Intuition/Power
3. Breaking/Strengthening Relationships
4. Joint Injuries & Pain
5. Dryness in Throat & Breathing, Easy Caries & Mouth Ulcers
6. Nausea & Vertigo; Emotional/Mental & Energy Imbalance
(Visited 54 times, 10 visits today)