Camouflage to Avoid Capture: Freedom and Safety in Trustworthy Communities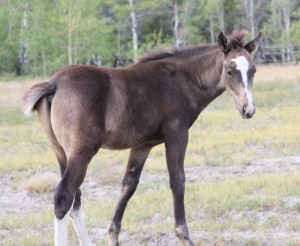 Core Essence: Frustrated When Freedom is Restricted
Remedy Nucleus
Distrustful of most people (esp men) because they are tricky
Overactive nervous system; many fears, insomnia, heart problems, nerve pain
Great need for freedom; yet freedom is blocked at every turn leading to frustration
Feels free with and can be themselves around their trusted community
Worse restrictions/constrictions; constricted sensations (lungs, headaches, neck, etc)
Click here to read the full text: The Homeopathic Trituration Proving of Nemiah Valley Wild Horse (Equus ferus caballus)
Summary of the Homeopathic Proving of Wild Horse
Physical Affinities
NERVOUS SYSTEM
HEAD
HEART
ENT (EAR, NOSE, THROAT)
REPRODUCTIVE SYSTEM
RIGHT SIDE
Skin
Extremities
Lungs
Eyes
Digestive System
Modalities
Desires
Food, Water
Community (Friends, Family, Animal companions)
Female companionship (e.g. lesbianism)
Rural Living
Truth
Freedom
Open air
Running
Escape
Aversion

People who Lack Integrity
Restrictions
Injustice
Contradiction
Sensory overstimulation
Worse
Menses
One side (esp Right)
Night
Upon waking
Alone
Better
Daytime/sunlight
Support of trusted community
Fears
Fire
Drowning
People will think she is crazy
Slavery/Traps/Capture
Rape/Abuse
Of people outside of trusted community (esp. Men)
Miasm
Tubercular
Main Physical Symptoms & Themes
General Themes
Themes Common to All (Prey Herd) Mammals
Wild horses are prey herd mammals. During the proving, themes of caring for and protecting children came through which is a common theme to all mammals. Also common to all herd mammals is the need to belong to a community and feeling safer and more secure when with others/the group vs. being alone. Yet, as is also common with herd mammals, there was also a desire to maintain and fight for their individuality within the group.
As is common with prey animals, at times there was intense fear with the desire to escape, hide or freeze. The theme of abuse also came out in the proving; it is quite common for people needing mammal remedies to have a history of abuse. In particular, there was also distrust and fear of men, with fear of rape or child abuse, and an aversion to injustice, all common mammal themes.
The theme of difficult communication seems to be common to all mammals, and was also a theme seen in my past provings of panda and raccoon. With patients needing a mammal remedy, there has been incorrect bonding between mother and child, leading to a feeling of separation and inability to bond properly (i.e. communicate) with others later in life. Provers found that they were transposing letters, the symptom of dyslexia being common to all mammals.
In terms of physical symptoms, headache is common to all mammal remedies and was a symptom that most provers experience. Aggravation from menses is common to all mammal remedies and did come up strongly for one prover. Skin eruptions (esp originating from childhood) came up during the proving, and are a symptom common to all mammals.
Other common mammal symptoms such as nausea, vertigo and digestive problems (constipation and/or diarrhea) were also experienced by some provers. The theme of eating disorders as well as increased hunger is also common to mammals and was part of this proving.
A Comparison of Lac Equinum (Domesticated Horse) and Nemiah Valley Wild Horse Remedy: Similarities and Differences
One could think of wild horse as a more or less stripped down and healthier, less compensated version of lac equinum.
According to some authors, the core essence of lac equinum is the desire to be of service; a desire to please and to serve others – this symptom/essence is not found at all in wild horse. Domesticated horse is a people pleaser and wants harmony within the group, whereas this aspect was not part of the wild horse proving, though wild horse does heavily depend on their trusted community. Some other central aspects of lac equinum are the need to be productive, industrious and fastidious with the desire to work hard, but these were not found to be the symptoms of wild horse. As opposed to lac equinum, words like "duty" and "responsibility" did not come up in wild horse. Struggling to do one's duty and working hard yet not getting satisfaction from the work seems to be the state of domesticated horse but not wild horse.
For wild horse, there is the need to camouflage and hide one's true self around people who are not in their trustworthy circle – that theme did not come up for domesticated horse. The members of wild horse's trustworthy circle could be family, children, friends, or even animal companions. Therefore they can be shy and won't easily open up to strangers; and unlike lac equinum, this remedy is less inclined to be too talkative or to tell any secrets, unless one is in their trusted circle. Whereas domesticated horse relies on a leader, wild horse values their freedom above all else, but they can only be free to be themselves when they are with and supported by the members of their trusted community.
In terms of the physical symptoms, the symptoms of wild horse are more or less the same as those of lac equinum. Physical symptoms found in this proving that are not found in the proving of lac equinum are a few bleeding symptoms: blood in the stool, nosebleeds and spotting between periods.  Note that lac equinum does have hemorrhage of the gums, which was not seen in the wild horse proving. The strange rare peculiar symptom of biting one's lower lip was found in this proving but not in lac equinum.
Although lac equinum is in the cancer miasm, with its controlling behaviour, fastidiousness and desire to please, the wild horse state matches the tubercular miasm best (which is less serious/deep than the cancer miasm). Wild horse has the affinity for the lungs, desire to be outside in nature, the desire for freedom and travel as well as an aversion to being trapped or restricted in any way, which are all symptoms that best match the tubercular miasm.
While some authors say that "desire to be of service" is the core essence of lac equinum, others say that "frustration" is its core essence. For wild horse, I would say that "desire for freedom" is its core essence, and frustration can certainly and often does occur if freedom is blocked or hindered in any way.
Lac equinum has the feeling of hardship and difficulties, which also came up in wild horse. With wild horse, the feeling is of things not going according to plan with feelings of frustration and/or disappointment. Both lac equinum and wild horse have dreams of unsuccessful efforts, a feeling of not being able to do what one wants to do, and feeling blocked with obstacles in the way.
Many of the emotions experienced are the same in domesticated as well as wild horse. It seems that wild horse is just as angry and irritable as domesticated horse. There is impatience, obstinacy, themes of killing/violence and abuse in the dreams, and confrontations. Horses of all sorts (wild and domestic) don't like being told what to do; they like their independence.  Apathy and ennui also came up strongly in both horse provings, as well as feelings of sadness and despair.
The theme of lesbianism came out quite strongly in this proving, which has also been found to be a theme in some cured cases of lac equinum.
Alert, Nervous & Anxious: Overactive Nervous System
There are a lot of symptoms of fearfulness and a heightened awareness of potential dangers in this remedy (see above for a list of specific fears). Fear was often felt in the chest, along with a racing heart often accompanying the anxiety, worse upon waking. Dreams were typically anxious. The anxiety and fearfulness was markedly worse at night. The anxiety could be accompanied by a panicked, helpless feeling. Senses (e.g. hearing) were more acute. Physical nervous system complaints involved numbness of the extremities (hands and feet) worse lying in bed and after alcohol.
Running/Hiding/Camouflage to Avoid Getting Tricked or Caught by Dangerous People
During this proving there was the sense of needing to hide or camouflage, the feeling that it was best not to reveal or expose one's true self too freely, because it was often not safe to do so. If one was to reveal oneself to a person with bad intentions, one can become vulnerable. There was, in general, a distrust and fear of people who were not part of their trusted community.
The theme of "tricks" and betrayal also came up in the proving. Provers were lied to in order to "catch" them and restrict their freedom.  Provers had zero tolerance for the tricksters' utter lack of integrity.
Importance of Connection to One's Community: Safety in Numbers
Because of the heightened sense of danger, provers also felt more secure and protected when they were with trusted members of their community. However, not just any company would do; it was important for provers to belong to a community of people they trusted and who they could really be themselves with, without being judged (e.g. called "crazy") for who they were and what they said. Community looked different for different people, whether it consisted of their family members or friends (chosen family), and/or even animal companions.
Frustration: Things Not Going as Planned & Unsuccessful Efforts
There were many dreams of unsuccessful efforts (trying to take a picture but the camera freezes, losing money, a bicycle losing its wheel, a performance not going as planned). In provers lives and during the proving, plans tended to go awry. Some people really wanted to and tried to come to the proving, and Sonya did her best to make things work, but due to circumstances many of them were not able to join. Provers experienced a sense of frustration and/or disappointment when things did not go according to plan.
Child Sexual Abuse, Assault, Rape and Violence
The theme of the violent and abusive male came out quite strongly during the proving. His target was usually women and children.
The Powerful Feminine
Symbols and themes of owning one's female power came up during the proving. There was often a preference for being in the company of women and for lesbian relationships.
Freedom from Restrictions
During the proving, there was an uncompromising desire to live our truth, to be free and not be oppressed. We wanted to do what we want to do, say what we want to say, and live how we want to live – and any attempt to take away freedoms was met with vehement opposition ("FUCK OFF"). Freedom is possible, but only within one's trusted community. People outside the community are not to be trusted, and camouflaging and not revealing oneself too much is necessary to avoid capture/restrictions to freedom.
There was also a desire to live in a remote location, which lends itself to less rules and restrictions.
Apathy/Ennui
A feeling of apathy/ennui was evident in the lack of prover notes, which is normally uncharacteristic of those provers' notetaking. There was often a feeling of not wanting to bother to write anything down; a feeling that the proving process is a waste of time. "Brain feels silence/empty/tired with no desire to think or to create." A feeling of tiredness, laziness and heaviness worse during the daytime, with the opposite (hypervigilance) at night.
Angry & Obstinate
At times there was violent anger in the remedy, either related to abuse or when told what to do. This remedy is very intolerant of contradiction, of injustice, and desires freedom to do whatever she wants to do above all else.
Other Mental Symptoms
Difficult communication (mistakes in writing, hears talk as gibberish)
Sadness and Regret
Major Physical Themes
Insomnia
Going to sleep too late, frequent waking and/or waking too early. For some provers, they had less need for sleep, and felt refreshed after only a short sleep.
Headache/Neck Tension
Neck pain (stiffness, tightness right sided, cannot turn head to the right)
Headache/migraine (right side, pressing)
Constriction
Not only is this remedy averse to restriction or constriction of any kind, but the symptom of constriction is also found physically in the different parts of the body as well as the respiration.
Hayfever & Allergic Symptoms
Lac equinum is often used in cases of allergies, and allergic type symptoms were also found in the wild horse proving. Allergy type symptoms experienced in the proving include sneezing; itchy watery burning eyes; skin rash/eczema on extremities with itching; ear, nose and throat congestion; cough; constricted/difficult respiration.
Easy Bleeding
Increased tendency towards nosebleeds, blood in the stool and spotting between periods.
Nerve Pain
Nerve pain was characterized as sharp or stabbing, often on the right side of the body, the extremities and the face, as well as numbness.
Other Pain themes
Lower back pain (worse menses)
Extremity Pain (esp foot, hip)
Breast Pain (worse menses)
Burning (nostrils, eyes)
Cramps (leg, foot)
Other Sensations

Stiff/Tense
Coldness/Burning
Heaviness/Pressing
Dryness
Other Physicals
Increased urination (worse night)
Vertigo with nausea
Dry lips
Constipation/diarrhea
Mouth sores
SRP
Bites Lower Lip
Hearing (female/child) voices
Other Themes/Dream Imagery
(Feral) Cats
Bears
Flies
Sexuality/Sensuality
Caring for/Protecting Children
Water (pools, creeks, waves, tsunami)
Lost Purse/Wallet/Gold
Hills/Mountains
Cars/bicycles losing wheels or flat tire
Police/security guards
Spirals/Encircling/circles
Being chased/pursued
Remedy Story of Nemiah Valley Wild Horse
This is the story of a remedy/person who has a history of abuse in their past and/or childhood. They have run into plenty of bad people (mostly male) who have mistreated them. Their life is always full of frustrations and hardships which put limitations on their freedom. Above all else, they value their freedom, and are very cautious about being too open and vulnerable with most people because in their past experience is that most people are tricky and are not to be trusted. They have a very active nervous system, are forever on alert for real or perceived threats, and can suffer from many fears, heart problems and insomnia. Yet, they have a community of people, a trusted circle of friends, family and/or animal companions whom they feel completely safe and free with and can let their guard down with completely.
Remedy Nucleus
Distrustful of most people (esp men) because they are tricky
Overactive nervous system; many fears, insomnia, heart problems, nerve pain
Great need for freedom; yet freedom is blocked at every turn leading to frustration
Feels free with and can be themselves around their trusted community
Worse restrictions/constrictions; constricted sensations (lungs, headaches, neck, etc).
(Visited 116 times, 27 visits today)