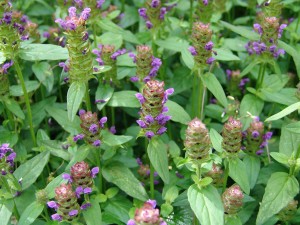 Remedy Nucleus
Heals all types of infections, acute or chronic
Poor sense of self and no boundaries
The bleeding heart: healer heal thyself
Low immunity: Viruses, bacteria, parasites, cancer, HIV, etc.
Over-excitability of the nervous system (like all mint remedies)
Read the full text: The Homeopathic Trituration Proving of Prunella Vulgaris
Summary of the Homeopathic Proving of Prunella Vulgaris
Physical Affinities
IMMUNE SYSTEM
NERVOUS SYSTEM
THROAT/Neck
Jaw/Teeth
Joints
Abdomen
Eyes (Watery/Infected)
Nose (Coryza)
Breasts
Heart
Genitals
Head (esp. temples)
Skin
Chakra Affinities

HEART
THROAT
Sacral
Brow
Root
Solar Plexus
Modalities
Worse
Infection (Viruses, Bacteria, Parasites, Yeast, etc.)
Abuse
Domination
Lack of loving environment during childhood
Better
Loving Oneself
Miasm

Cancer
The Mint (Lamiaceae/Labiaceae) Family
Main Theme: Over-Excitability of the Nervous System

The mint family contains many plants, and only a few of these are known homeopathic remedies; many
of which only have small provings. Sankaran says the main sensation of the mint family is "excitability."
To be more exact, I experienced it as an over-excitability of the nervous system. You can see this overstimulation or excitability of the nervous system running through some known homeopathic remedies such as Origanum, Thymus, Salvia, and Rosmarinus – all edible herbs, just like Prunella vulgaris. Many of the (known) mint remedies have an affinity with the immune system esp. coughs and colds. Most remedies in this family are also quite sexual (esp. Orig) – sexual response is connected with the nervous system. There is also another rather well known mint family remedy, Lycopus virginicus (Bugleweed), which is primarily a heart remedy and hyperthyroid remedy. So we could also see some of the mint remedies having this in common as well, a hypotensive as well as a remedy for hyperthyroidism, shared with the traditional usage of Prunella vulgaris. Again, this theme of over- or hyper-stimulation –
hypertension, hyperthyroidism, can be seen as a part of the over-excitability, which is a common theme
of the mint family.
The opposite of the mint family excitability (a less healthy person who needs this remedy) would be a
state of collapse of the nervous system, with vertigo, lack of reaction, drowsiness and insensibility.
Major Themes of Prunella Vulgaris

Weak Immunity: Poor Defenses against Infection, Viruses, Bacteria, Yeast, Parasites, etc.

This is a remedy that has traditionally been used acutely for different types of infections such as infected
wounds, fevers and various types of mouth and throat infections. This remedy could be useful for any
sort of acute infection, whether it be a wound, dysentery, eye infection or flu.
A good constitutional remedy for somebody who has a lot of susceptibility to infection. A major keynote
of this remedy: if there is no susceptibility to various types of infections, this remedy would not be
indicated constitutionally.
Healer/Green/Love/Heart Chakra

Like Carcinosin, this remedy is for a person who is very giving and loving towards others, but needs to
practice more self-love. This remedy has an affinity for healers, caregivers, and people in other types of
helping professions. We might call these people "bleeding hearts." Nurturers who need to nurture
themselves more. Because of its affinity for the heart, it is also a good remedy for hypertension (the
circulatory system is linked with inflammation, and therefore, to the immune system).
A Weak Sense of Self/Identity: No Clear Boundaries
Also like Carcinosin (prunella vulgaris is a scientifically proven herbal remedy for cancer) this person has
a weak sense of self. Because they lack boundaries, they have left themselves vulnerable to
infection/attack by invaders (viruses, bacteria, etc). This is what happens in many types of immune
system disorders like allergies, cancer and HIV – the immune system can no longer defend or
differentiate self from non-self. This state may stem from a lack of a loving environment in childhood,
long-term abuse and/or domination. This person's boundaries may have been crossed during their
formative years, thus it has been hard for them to develop a clear sense or understanding of self/boundaries.
No Clear Sense of Purpose: Finding One's Inner Light

This seems all too common in our modern society: the need to keep striving to have or be something
better, and a constant state of dissatisfaction. They know they want something more, but they are not
clear about exactly what that might be. This remedy can help this person keep more grounded, so they
can be in the moment instead of always striving and anticipating a better future. This remedy can help
someone reach a state of contentment with where and who they are at the present moment. Once this
person's identity starts to solidify, they can also start to find their true calling by listening to their newly awakened instincts – they can now use their "inner light" (solar plexus) to guide them.
(Auto)Immune: Cancer, AIDS, Allergies, Coughs/Colds/Flus, Diabetes, Arthritis, Grave's Disease, Hypertension, Inflammatory Bowel Disorders, Herpes/Warts, etc.

Prunella vulgaris has been scientifically proven to help with immunity disorders, so when dealing with
clients with these diseases in practice, consider prunella vulgaris as a constitutional or intercurrent
remedy, to strengthen the immune system.
Wound Healing

This is a remedy for wound healing, which is what it has always been used for traditionally. Not just for
external wounds, but for internal bleeding. It can also heal emotional wounds, wounds from a dark past
(abuse and/or domination). The wounded healer – a person who wants to heal others and can
empathize with others' wounds because they have also been hurt.
Nerve Pain
There is over-excitability of the nervous system (common to all mint remedies, see above), leading to
possible symptoms/pathologies such as hypertension or insomnia. Pain seemed concentrated in the 8
neck/jaw area, the knees, and the breasts. There was also pain in the joints, so it could be a possible
remedy for rheumatoid arthritis, which is an autoimmune disease.
Sensations

Sharp, prickling, tingling radiating pain (nerve pain)
Dryness/choking sensation in the throat, tickling and leading to dry cough
SRP

Bitter taste in the back of the throat/mouth
Remedy Nucleus

Heals all types of infections, acute or chronic
Poor sense of self and no boundaries
The bleeding heart: healer heal thyself
Low immunity: viruses, bacteria, parasites, cancer, HIV, etc.
Over-excitability of the nervous system (like all mint remedies)
(Visited 95 times, 11 visits today)