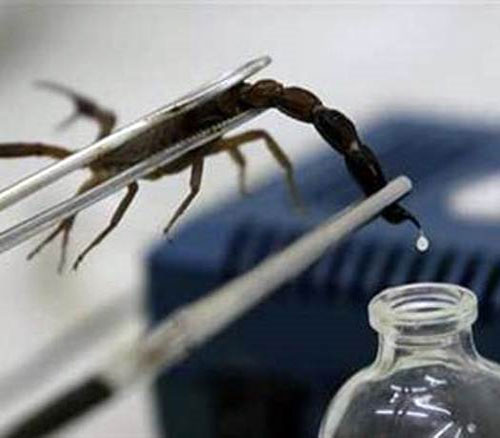 About a year ago I introduced the followers of this blog to the Cuban homeopathic medication Vidatox: A Scientifically Proven Treatment for Cancer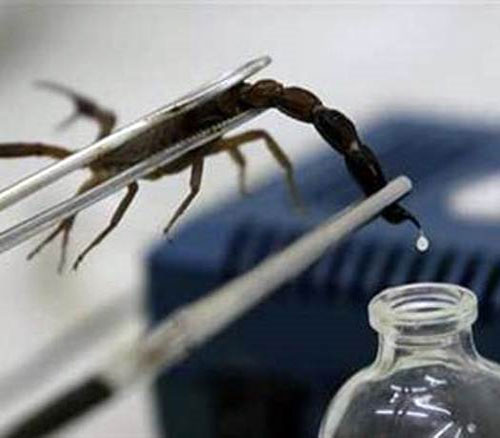 On September 26, 2012, in Havana, Cuban scientists presented the benefits of the homeopathic drug Vidatox 30 CH, in cancer therapy, which has raised life expectancy and quality of life to a group of patients. During the 2012 LABIOFAM International Congress Dr. Eva Solomon, head of the Cancer Control Group and the Center of Disease in Havana, said the drug was administered to 845 people with cancer in advanced stages in breast, lungs, colons, prostate and cervix, with favorable results.
The drug is administered in five sublingual drops every 12 hours, and after six months 87 percent of patients improved their appetite and felt pain had decreased, so they stop taking morphine, said Solomon, who works as a researcher at the LABIOFAM Business Group, which develops the product obtained from the venom of the Rhopalurus junceus scorpion.
It also reduces swelling and improves overall mental and emotional conditions of patients and families, Solomon stressed.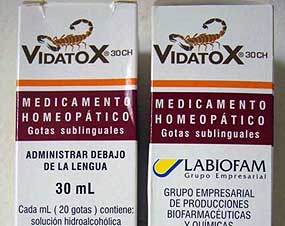 The drug has proven effective and is used after concluding the traditional therapy (surgery, chemotherapy and radiotherapy), said the specialist, who participated in a Symposium on Natural Products in Cancer Therapy, being held as part of this congresss.
Meanwhile, Master in Experimental Pharmacology at LABIOFAM, Alexis Diaz, announced that in the trials with that scorpion venom, endemic to Cuba, from which the homeopathic product is made, checked for analgesic and anti-inflammatory effects and has wide demand in the international market.
The expert pointed out that the experiences with this scorpion toxin, show great efficacy on tumors of epithelial origin, and not on lymphomas and leukaemia. Patients suffering from tumors in the pancreas, bone marrow, prostate, lungs and other organs have dramatically improved their quality of life thanks to the use of Vidatox 30CH, the scorpion venom product with no known side effects.
As part of the scientific evidence, congress attendees watched footage of the  venom, destroying tumoral cells.  Studies allowed for the isolation of five peptides armed with the ability to inhibit the growth of tumoral cells and induce cell death through an apoptosis mechanism.  This inhibiting action confirms the certainty of using this substance as a complementary treatment for tumoral diseases.
Vidatox has now been tested with positive results on 65,000 cancer patients. "Unlike any other, Vidatox crosses the blood-brain barrier," said the president of Labiofam, Jose Antonio Fraga Castro.
Already Vidatox is being used in South & Central America, Europe, Asia, Cuba, and the Caribbean region.  However, knocking down the barriers of incredulity that stand in the way of traditional medicine as opposed to conventional treatments, is a challenge on the road ahead.
References
"Cuba apresenta vacina contra câncer de próstata" Terra
"Cuban Natural Drug for Cancer Has Proven Efficacy, Scientists Say" Radio Cadena Agramonte
"Cuban Research Institute to Introduce Cancer Treatment Protocol" The Malay Mail
"Cuba's Cancer Fighting Drug from Scorpion Venom" St Lucia Star
(Visited 1,868 times, 77 visits today)